Welcome Home - Diverse Voice Campaign
Project Type
Branding
Campaign Design Photography
Credits
Artist
Aliyah Salmon

Group Members
Juliet DiCarlo
Connor Schwenk


Information
The project was tasked with finding and collaborating with a creative from a diverse community. The collaboration would result in a campaign featuring our collaborator's story as the primary message of the campaign.
The approach taken for this project started with reaching out to artists through Instagram. We found our collaborator, Aliyah Salmon, a NYC based textile artist. Through working with her, having extensive conversations, and meeting her in person, we created a campaign that not only reflected Aliyah's work and identity, but accurately told her story. This project was motivated and strengthened through the personal connection developed with our group and Aliyah.

The results of this collaboration were a colorful and lively home collection, and an extensive social media campaign which also included physical posters. Most importantly, this project created and nurtured a rewarding relationship and connection between our group and our collaborator.
Aliyah's Art
Question: How do we brand/campaign Aliyah's story?

Branded Home Collection
To go along with Aliyah's tuffed rugs!
All handcrafted. Including Aliyah making the pillow!


A little bit more about the furniture pieces, Aliyah Salmon created the designs for the lamp and pillow. Aliyah handmade the pillow herself and sent it on over to us to photograph! The lamp and chair were previous designs that she gave us permission to use.

Besides the pillow, the lamp and chair were hand painted and the lamp was made out of acrylic and vinyl.

We expressed the emotion in the furniture of being welcomed home along the lines of Aliyah's presence. Right away, Aliyah's atmosphere is warm, loving, and wanting to be her friend right away. So why not have furniture that welcomes you home!



Promotional Posters
Quotes from Aliyah's Interview
Social Media Campaign
Telling Aliyah's Story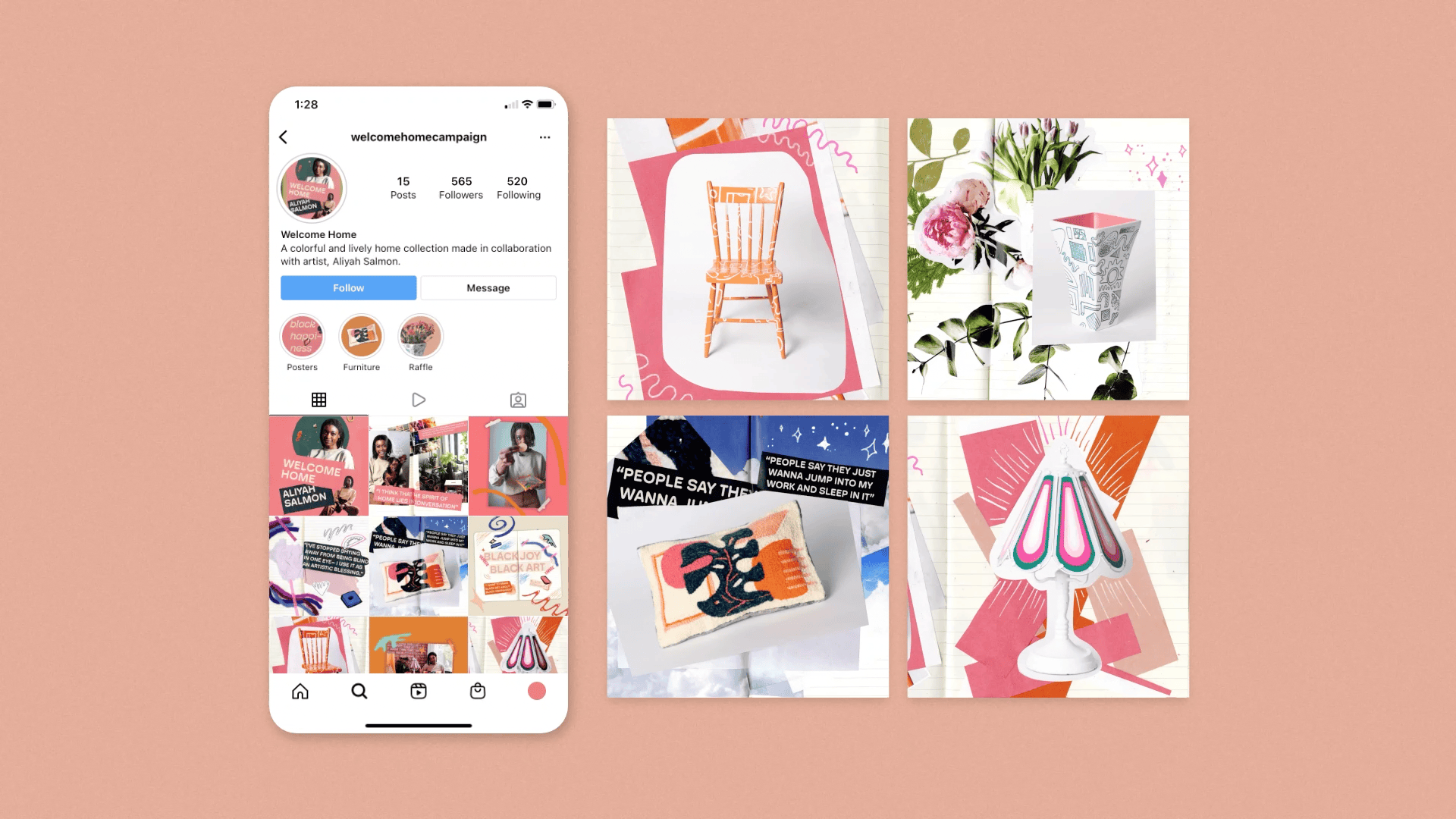 Scrapbook
Here is how we made a lot of the Instagram posts!
Scrapbooking is a big part of Aliyah's creative process.